Mackie's New Year's Letter
Happy New Year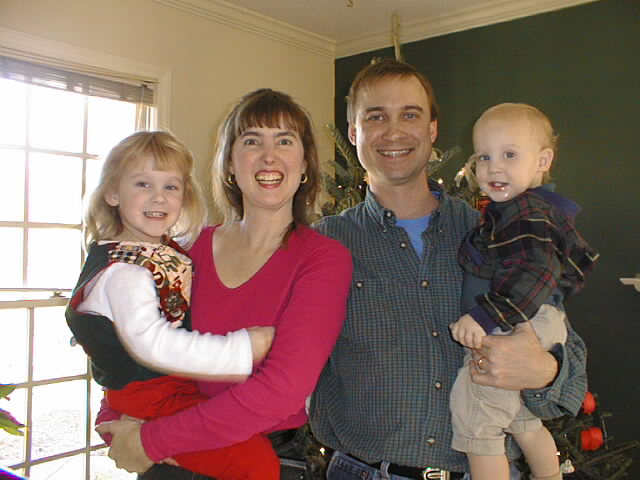 Happy New Year Friends and Family!
I hope that 2001 is healthy, happy and prosperous for everyone.
Find more Christmas pictures.
The year 2000 was so busy from October until December that I had to pull out the calendar to see what happened during the first nine months of the year!
I am officially calling the year 2000 - The Year of the Cousins! The Schecterson family moved from Chevy Chase to Atlanta, where they are still settling in. The four Cousins are a big handful. Calder is 5, Maria Hunter is 3, Jane is 2 and Bryson turned 1 this June. We had a full week of fun when they visited us at Easter. Then thanks to my sister attending her 20th, yes 20th, High School class reunion in Seattle, Maria Hunter, Bryson and I went to Atlanta for a week in August. We also returned to Atlanta for another week in October, and we were blessed with a visit from all four Schectersons to Cary in December. I am so pleased that my sister and I are able to see each other often. Even though it is a long drive, the time we spend together is well worth the travel hassle. If everyone could see the four Cousins together and what a great time they all have, you would understand at once why I say it was the Year of the Cousins. I am hoping for them all to be together as much in the year 2001.
We also "acquired" two new cousins this year: Carson Wade, son of my cousin Margaret Reynolds Wade, and Shaw Smith, son of my cousin Moreland Smith. On a sadder note - we also lost a great person. My Great Uncle Jack Tyler departed from this life in December. Jack was married to Margaret Long, my Grandmother Maria's sister, and he was a wonderful person who we will all miss. I still think about him and all his family many times a week.
Ken Mackie's best friend Danny Jewell got married this year. We were pleased to meet Danny's new wife and impressed with what a wonderful person she is. Danny's good fortune was our good fortune because Best Man Ken paid us a week's visit at the time of the wedding(May). We hope to get to Hawaii to see him this coming Christmas. Ken is looking great, feeling great and has made a major move this year in becoming self-employed. He is an officially licensed General Contractor. We are all very proud of him.
My brother Hunter also made a move this year, ending his 2 year reign as a very accomplished Public Defender, becoming one of those vicious personal injury attorneys! He is pounding the pavement for clients and doing great. Maria Hunter, Bryson and I look forward to seeing him this February.
From the Mountains to the Sea -- Maria Hunter, Bryson and I traveled a lot. We visited my godchild McKenna Burke, and her parents Karen and Kevin, in Indianapolis for McKenna's first birthday. We had several visits to Atlanta and a trip to Washington D.C. to see my grandmother Maria Long Hunter. In January 2000 Maria Hunter, Bryson, Anne Mackie and I went to Baldhead Island for a wonderful week of winter beach activity. During that week Wake County had a large snow, which we missed. Then when we returned to Cary (and I am sure in honor of my 35th birthday!), it snowed a record 20 inches, so Bryson was able to experience snow during his first winter. We all had a great time. It must have been the year for snow, because we also received about 6 inches of snow before Thanksgiving. It was all a great treat. MH, Bryson and I -- plus our new neighbors Julie, Celine and Damien -- went to the NC mountains in June. It was fabulous! Hiking, swimming and miniature golf consumed most of our week. I hope we can all go back in 2001.
Besides Ken Mackie and the Schectersons we also had a great visit from my Dad, Grandpa, and his friend Lee. MH and Bryson had a great time reading stories, playing and making paper snowflakes with them. We also had the pleasure of having my Great Aunt Kash Long over for a visit and dinner.
Rob went to Florida fishing for a week in March with THE GUYS!, including Dave Mackie. He had fun, and he loved the St. George area of Florida. He took this break right before he started his new job at Cisco Systems. Yes, like most people, we are hoping the stock market will come back strong so that our stock options will enables us to quit work and play full-time !!! We will keep you up to date on the reality of that dream!! Rob also put in a beautiful brick patio and remodeled our deck. The yard looks fabulous. Please be sure to check out the pictures on our web site. ( http://mackies.org ) The web site ! Rob established the new site at "mackies.org". Lots of pictures of the family and our projects. Rob also started the "Stories about Susan" project. Rob hopes to get the necessary art work and publish some children's books soon. You'll find previews under Rob's link.
It was a big year for Maria Hunter. She turned 3 in March and had a big kite flying birthday party at a nearby lake. Winnie the Pooh even made an appearance! For her upcoming fourth birthday she is requesting a bicycle. Maria Hunter attends school three mornings per week and really enjoys it. She is learning so much every day at home and school. It is incredible!! For Christmas she requested a Yo-Yo. Santa Claus put a yo-yo in all four of our stockings. She has already informed me that next year she wants skis!!! I guess we are moving on to bigger things quickly!
David Bryson known as "Bryson" has had a huge year. In 2000, Bryson went from crawling to walking and talking and learning everything!! He does a great job of keeping up with Sister. They usually play very well together and really enjoy each other's company. Over the Christmas holiday he officially learned the word "Daddy". He has known the word for months, however, he kept calling Rob "Mommy", which Rob decided to take as a compliment. Smart Man! He received a basketball hoop, his size, for Christmas, and he must put a ball in it at least 50 times a day. He loves to play ball! I can't wait to see what he is up to this time next year.
In closing, I can only say that it has been a busy, exciting and wonderful year even with all its ups and down. Please make sure to visit our web site often to see updated pictures and to e-mail us. We hope to be in contact with all of you over the course of the year, and we hope and pray that 2001 will be a fabulous year for everyone.
Much Love,
Sally, Rob, Maria Hunter and Bryson Mackie

Go to Mackie's Home Page

---
© Copyright Notice
First copyright year: 2001
Last updated: 01/05/2001 -- by R. Mackie